---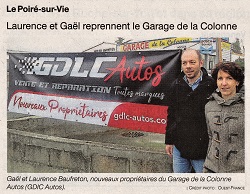 GDLC Autos in a french local newspaper, Ouest France
---
Laurence and Gael will now hold the keys of the GDLC Autos garage, previously "Garage de la Colonne". "We wanted to keep the initials of the previous brand" says Gael. "We ensure continuity : the same hours, the same mechanics, with a little new painted style !".
After twenty years spent in the car sector, Mercedes and Renault, Gaël was looking for a "case to resume, the opportunity has done the rest." Laurence, who will be at the reception and administrative work, think "it'll be easier to work with her husband than with a boss", even if she's "co-manager, so in charge of responsibilities," answer Gael with humor.
Gaël wants to continue the repair service and maintenance for all the brands, but also want to develop the sale of vehicles at intermediate prices (from 10,000 to 12,000 €), without excluding the sale of new vehicles on request. A fleet of used cars will be available in a month.